Get Ready for your Life to Change!
Keeping the Feasts are where the rubber of repentance hits the road!
Welcome to My Biblical Feast Course!
This is the BEST Online and Offline Course in the world! Why do I say the BEST? Because in my course you will not only learn ABOUT the Feast, but you will also learn HOW to LIVE in them.
I've discovered that when one realizes that they must be keeping these Feasts they are confounded about HOW to keep them.
This is understandable as most of us did not grow up celebrating these Biblical Feasts, therefore figuring out HOW to celebrate them as believers in the Messiah is often hard to do alone and without instruction. This course will take the guess work out of that question and provide an answer. It aims to dissolve Feasting frustration through a well thought-out, professional and accessible course.
I believe my course will help people all over the world discover YHVH's Biblical Feasts (the Mo'edim / Appointments) and then help them explore ways they can apply them to their life, family and community with a DIY attitude and creativity year after year.
So, if you need help celebrating the Biblical Feasts in your own home, no worries! Finally, there is a professional course that will help you learn about and plan out each Biblical Feast so that you and your family can live this new calendar rhythm with beauty and creativity in a way that pleases YHVH Elohim!
Welcome to my course. Welcome to repentance.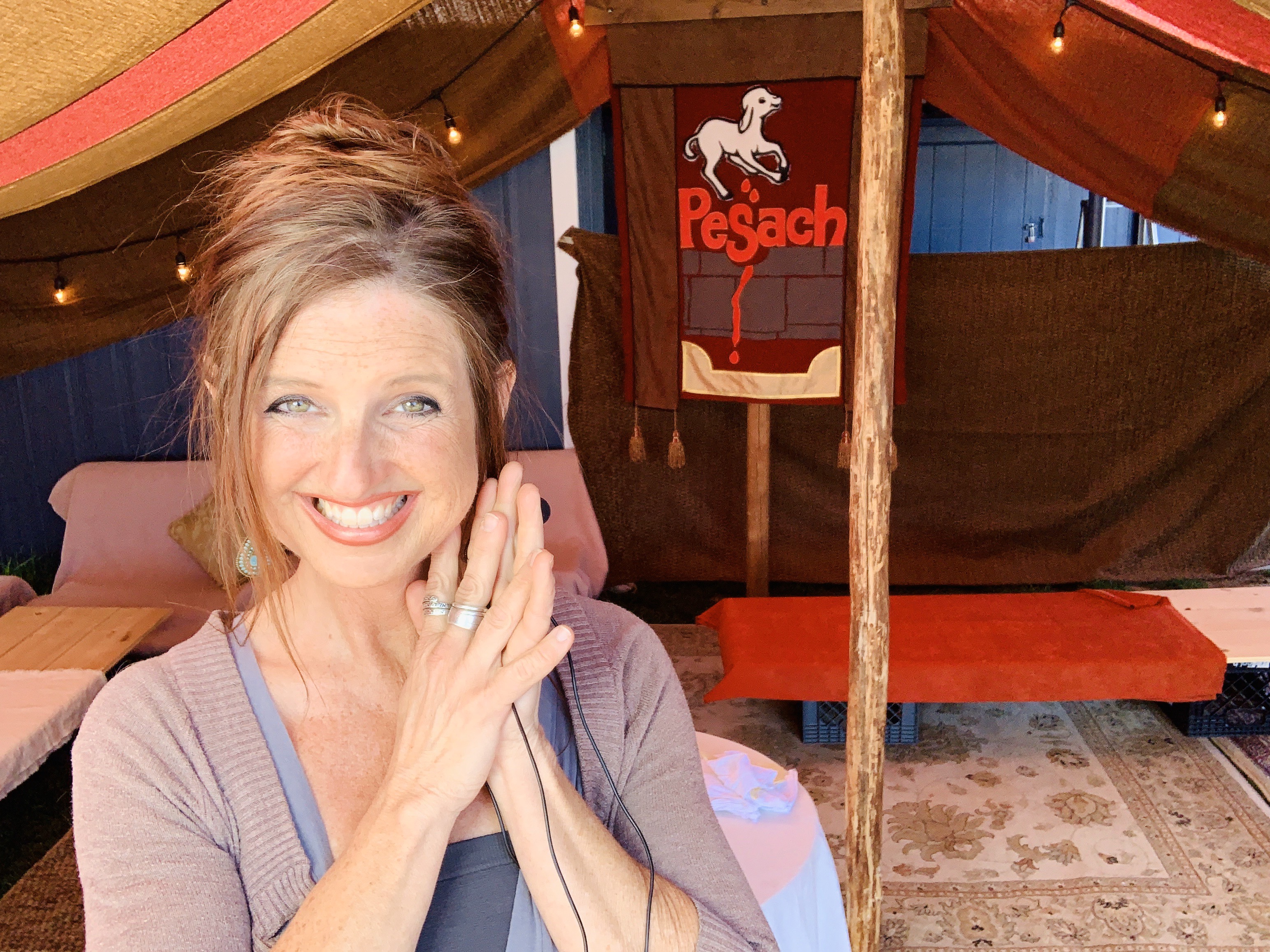 My name is Rebekah.
I have been obsessed with Yehovah's Feasts since 2007. Over the years, my family and I have hosted over 200 Biblical Feasts for The King. We've done this while living in a house, living in a tipi off-grid, living in an apartment and living in an RV. I know what His Feasts are about and HOW do this. I am a Feast Junkie. :-)
I am Isaac's ezer kenegdo of 22 years and mother of Maggie (21) and Hadassah (18). We have 2 doggies and 1 cat. I love the beach, the sunshine, soundtrack music, the mountains, harvest time, animals and figure skating.
I'm looking forward to walking with you into your journey into Papa Yah's Appointed Times. Thank you for registering for class!
About this Course
COURSE GOAL
Throughout the course my students will feel empowered to explore the Creator's Feasts with creativity and joy. My students will become addicted to Yah's Feast days with a personal strategy by which to walk in them all year long. They will find permission to move their head knowledge into heart knowledge through building their cognitive understanding of YHVH's Ways.
My course will build and strengthen students Feasting muscle memory!
COURSE DETAILS
This course will cover ALL the Biblical Feasts. From the weekly Shabbat and monthly New Moons to the annual Spring and Fall Feasts to the Winter Festivals.
The online and offline Biblical Feast Course is a 12-month course developed as a "go-at-your-own-pace" class with approximately 20 Modules in all. The course takes a student through one whole year of Biblical Feasting linearly (12 months). Students can register and jump into class at anytime throughout the year. Students will graduate from the course when they have completed all 20 Modules, which will take at LEAST 12 months, but could take more for others.
WHAT ARE THE MODULES LIKE?
Within the course Modules there will be many different tasks that the student will need to accomplish to move on to the next Module. In each Module there will be video and audio instruction. Things to read and watch. Things to write and listen to. Things to study. Things to create. Things to upload and share. Things to talk about with their family. Things to pray about and quizzes to take. Students will also have the ability to leave comments for the instructor and other classmates to view.
Students will complete one task at a time, one Module at a time (basically, one Feast at a time). These are the 5 stages students will follow for each Feast (Mo'edim) in this course. These stages to Feasting will give a simple structure to the course and will help to move head knowledge into heart knowledge for the worshipers. Those 4 stages are:  
 Learn it
 Plan it
 Do it
 Store it
FAQ's
WHO IS THIS COURSE FOR?
Anybody who feels moved to walk in the cycles (the Biblical Feasts) of YHVH should take this course.
Newbie Feast Keepers should take this course. They can use this course to help them understand the Feasts. Plus, this course will give them support and guidance as they begin to keep them throughout the years.
Experience Feast Keepers should take this course. They will get inspired to embrace the Feasts in a fresh, beautiful and creative way.
Course Graduates will also be able to use this course as a resource throughout the years with Lifetime Access, offered to them at a special rate after course completion.
WHAT DOES IT COST? COURSE TUITION
Tuition can be paid 2 different ways. In full at registration or broken down into monthly payments.
Pay Tuition in full at registration. Full tuition is $450. Paying in full gives you a small discount (you get almost 1 month free by doing it this way). $450 covers only 12 months of class. If an extension is needed the student will hop onto the monthly payment plan and finish out the course that way.
Pay tuition monthly. Monthly tuition is only $39.95 for 12 months or until graduation. Student is responsible for stopping auto payments at graduation (no refunds will be given for extra months of enrollment).
The goal is to graduate at the end of the required 12 months. For other students it may take longer than 12 months to graduate, and that is okay, but remember on the monthly payment plan it will continue to be $39.95/month until you graduate.
Graduates will be able to acquire Lifetime Access to the course with a reduced rate of only $9.95/month for as long as desired. All tuition will be paid through Kingdom University which is hosted by the Teachable.com platform.
WHAT HAPPENS WHEN I COMPLETE THE COURSE?
After passing all of the 12 Modules (which will take at least 12 months or more), students will qualify to receive a course certificate mailed to them upon completion. After graduation they will also receive an invite to an online video meet-up to meet other graduates and me face-to-face.
CAN I GET LIFETIME ACCESS?
Program graduates will be qualified to acquire Lifetime access to all the Modules and content they just went through for a heavily reduced monthly tuition(only $9.95 per month). They will be able to cancel that at anytime.
ARE THERE REQUIRED SUPPLIES?
Yes. Approx. $300 worth. Student can buy them all upfront and have them ready to go or buy them throughout the course of the year. It does take up to 3 weeks to get textbooks, so looking through the supplies list and ordering ahead is recommended. We are working hard to get sponsorships available for those students who can not afford the required books. Currently, we DO NOT have a scholarship fund.
WHAT ARE THE REQUIRED TEXTBOOKS AND MATERIALS?
You will need the following textbooks for the entire year:
The Chronological Gospels (A Rood Awakening International)
Your Bible (your favorite version that you use)
Yom Teruah Handbook (Textbook) The rest of the Mo'edim Handbooks (Textbooks) coming soon.
The following 5 items are also required to get started in this course.
DVDS to purchase that assignments will come from:
Last Supper Basics, not published yet
Pesach Basics, not published yet
Unleavened Bread Basics, not published yet
First Fruits Basics, not published yet
The following are suggested but not required.
Biblical Feast Inspiration DVD (Teshuvah Ministries)
A camera
A tripod and mount
A selfie stick comes in handy, too
Throughout the course you will need to purchase things for the Feasts and for Documentation. But we will look at those one Module at a time.
LOOKING FORWARD TO SEEING YOU IN CLASS!
This is a course in HOW to actually DO the Feasts that are in the Covenant Law. So, if that is something that you would like to do this year then register! The point of study is to DO the commands of YHVH Elohim. Handing someone a Bible and telling them to figure it out isn't helpful. This course will hold your hand and walk you through the HOW to DO the Feasts that are in the commands as believers in the Messiah, Ye'shua.
Register and become part of something amazing at Kingdom University!
I'm looking forward to meeting you!
Thoughts on why Paul didn't teach the Mo'edim, but why they are SO important.
"The most amazing thought came to me through the Ruach ha'Kodesh. I was thinking the apostle Shaul/Paul was trying to convey Hebrew concepts to Greek minded people. Which they couldn't really grasp and I don't believe most of them ever did and that is why when he was gone the church became the Roman Catholics. I believe the major problem with Paul is he did not teach the importance of the Mo'edim. In all his writings he didn't address it, though he himself celebrated them. But, looking back at my experience, I learned all of Paul's writings but still with the Roman-Grecco mindset. It was not until I came into this movement understanding the Mo'edim that my life radically changed.
It is so true what Rebekah says - that it is in the celebrating of the Mo'edim where the rubber of repentance meets the road.
When we meet with Yehovah at His Mo'edim I believe we are meeting Him under the Tree of Life. We are eating from the fruit which like eating of physical food changes our physical cells the spiritual fruit of the Spirit changes us on the inside. If one never meets Him at His Mo'edim then they are never under the Tree to eat from that fruit that changes us to Life - The Life. And that is why all the da'at from Paul cannot change a person or truly even be understood until the fruit changes our minds to understand."
– Dorothy Dillingham-Adams, Lady of Teshuvah